Sep.23--Forget about forecasting when dry bulk shipping will recover. The recovery is just not in sight, even if the bottom of the market has passed.
  The bulk shipping market is deeply challenged by a protracted oversupply of vessels with too much empty tonnage chasing insufficient cargoes, leading to poor freight rates as operators struggle just to breakeven.
  At the Marine Money conference held in Singapore on Wednesday, speakers at a dry cargo session summed up the state of the market – no clear sight of recovery on the horizon, and an unresolved demand-supply imbalance.
  "Our view is that the bottom has passed but it is still going to be a long road to recovery. The positive part is that there is little else to see the market go down even further, but in looking at the fundamentals the upside is also very limited," said Arjun Batra, managing director of Drewry.
  The fundamentals of the dry bulk shipping market remained fragile due to the supply glut and lack of strong growth in demand, especially when China has cut back its import of cargoes on a slowing economy. The populous Chinese market had single-handedly propped up dry bulk shipping back in 2001, pushing up charter earnings to extraordinary levels.
  The unprecedented boom of bulk shipping in the mid-2000s led to massive newbuilding orders by often irrational owners, who are themselves the cause of the market crash as rates nosedived when supply severely outpaced demand.
  "Unfortunately all owners are like unsupervised children. You give them candy and they want more, when they are already high on candy," quipped Khalid Hashim, managing director of Bangkok-headquartered Precious Shipping.
  The outspoken shipping boss has repeatedly called for an end to newbuilding orders and acceleration to tonnage scrapping. The combination of cutting new supply of ships into the waters and taking out elderly tonnage is the only viable solution to regain the health of the market, he believed.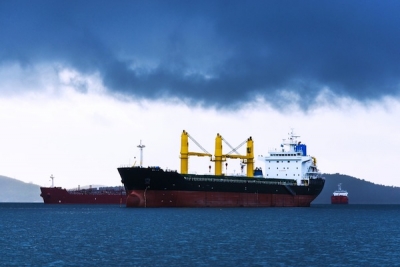 Michael Nagler, head of chartering at Noble Group, which sources and transports bulk commodities globally, noted that demand for commodities has stayed muted so far this year. He told delegates at the conference that the market slump is a "drawn out process that will continue for several years".
  Even if the capesize rates have risen recently, the freight increase is artificial, according to Nagler, and the worse that can happen now is people believing that the market is recovering and they decide to buy more ships. "It will be a disaster," Nagler said.
  Capesize rates have more than doubled from around $4,700 per day on average in August this year to $11,971 indicated on 20 September, according to data from the Baltic Exchange. The BDI has also increased by 31.4% to 903 points on 21 September from 687 points a month ago on 22 August.
  But clearly the larger capesize vessels are not favoured under current market conditions despite their rates improvement. "Capesizes are not what I would invest in. If I had invested in capesizes we would be bankrupt six or seven months ago. The handysizes and supramaxes are the more industrial bulk segments for today," said Pankaj Khanna, ceo of Pioneer Marine Inc.
  Drewry's Batra held similar views that handsizes and supramaxes are "clearly the workhorses." Supraxmax day rates have held steady at around $5,200 in recent weeks, down from $5,480 in August and $6,341 in July, but up from $4,517 in June, according to the Baltic Exchange.
  "We can expect more distressed shipowners, as well as distressed assets up for sale. The downcycle has been unreasonably long, putting owners in a very tight cashflow situation and even the best companies are finding it difficult," said Christoph Toepfer, managing director of Borealis Maritime.
  Khanna also pointed out that the main problem for companies is the fact that they have run out of cash. "Having cash is the main thing right now. The loan-to-valuation levels have to remain strong for companies to survive. Those that can survive are the ones who don't have loan-to-valuation issues and yet still have free cash," he said.
  Bulk shipping industry players whom Seatrade Maritime News spoke to saw no positive signals from the market, and a prediction on when the market will recover is hardly worth saying.